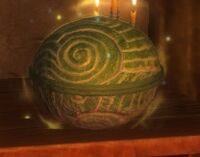 Fae Cairns is a magical device used in Kingdoms of Amalur: Reckoning.
Designed by the mortal monk Father Etair, and the shell created by Hallam the White and Tenhwa. The Fae Cainrs were created as a means to replace the Lorestones to ensure that the ballads recorded on it can never erased or destroyed. Tenhwa claims that it is new magic to the Fae, and Hallam refers to it as permanent magic that will not fade like the Fae.
Fae Cairns can only be used by Echostones.
Community content is available under
CC-BY-SA
unless otherwise noted.